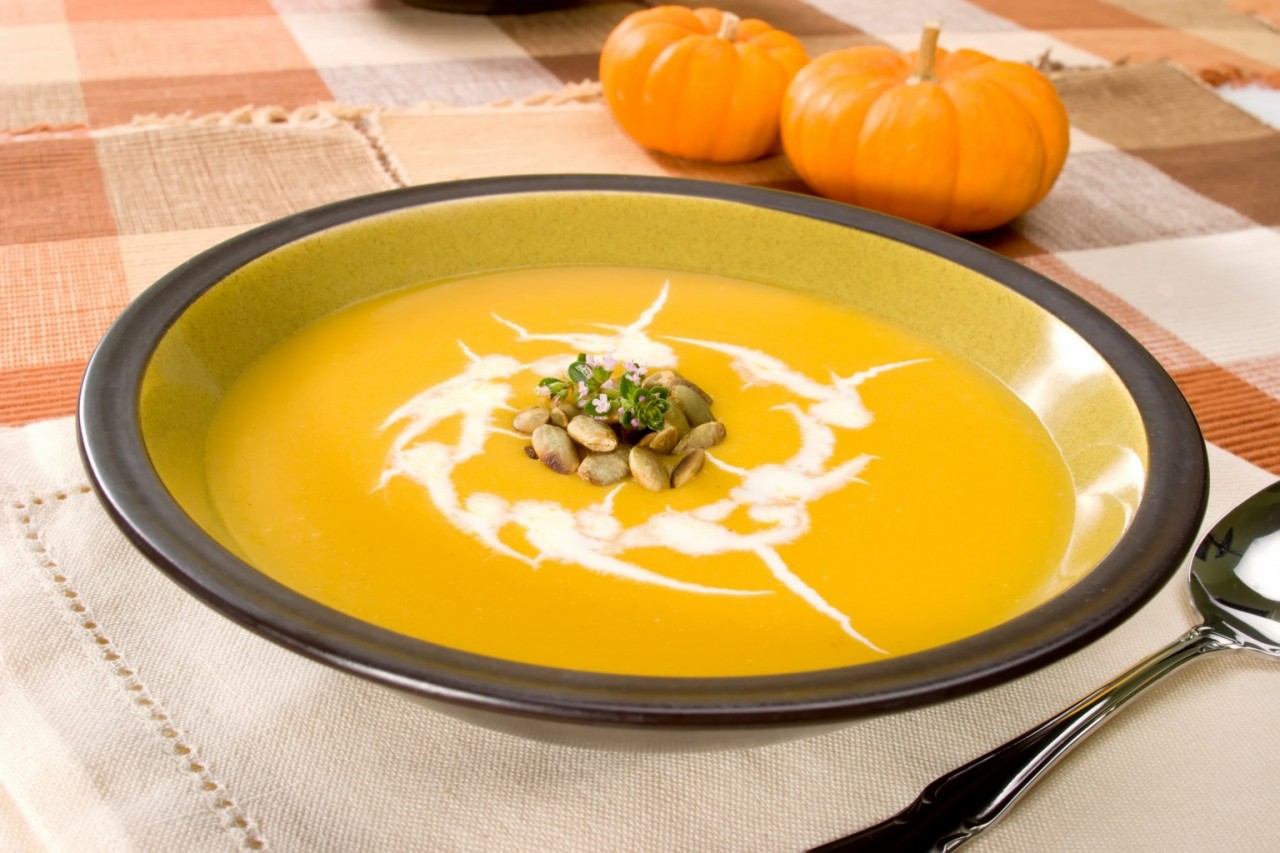 Soup
Red Kuri Squash Soup
This Red Kuri squash is so beautiful and the color is so deep and rich … and so fall-like. A friend of mine grew it and gave it to us and it inspired me to make a delicious fall squash soup. Even though I live in California, fall is in the air. I can smell it in the cool of the morning and I can smell it in the cool of the evening. I have to say I like that smell that signals a change of season. But, I have to admit, that I still love the sunny, hot days that are between those cool times!
This was the first time I ever had a Red Kuri squash before. I've had many winter squash varieties but never this one. I would say that the flesh of this squash is not as sweet as some other varieties – possibly a hint of bitterness too.  I'm not sure if that's typical of this variety or just the one that I used. I baked my squash whole to keep the moisture in – cut it open and seeded it and scooped out the flesh.  I'm sure you can cook it many other other ways though.
Here is the recipe for my Red Kuri Squash Soup:
Ingredients:
1 medium red kuri squash or other winter squash of your choice
1 medium onion, chopped small
1/2 large red bell pepper, roasted and peeled, and chopped small
4 cloves garlic, minced
1 cup chicken broth
1 teaspoon sugar
1 teaspoon soy sauce
2 teaspoons extra virgin olive oil
1/2 teaspoon salt
1 cup coconut milk (NOT the light kind) or coconut cream
Directions:
1. Preheat your oven to 350 degrees
2. Poke your squash all over with a fork or sharp tipped knife (be careful not to poke yourself!) Put your squash in the oven to bake. It will be done when you can easily pierce through the outer skin to the soft flesh inside.
3. When your squash is done, take it out of the oven and set aside to cool a little before cutting open and removing the seeds.
4. While your squash is baking, roast and peel your red bell pepper and chop small
5. Saute your onion, peeled red bell pepper, and garlic in a little olive oil until tender
6. Scoop out your cooked squash and combine it with your sauteed onion, pepper and garlic and add to blender with chicken broth, sugar, soy sauce, olive oil and salt.
7. Blend all ingredients until smooth, (you may have to do 1/2 of the ingredients at a time in your blender) OR you can use an immersion blender
8. When blended, put soup in a pot, add your coconut milk or coconut cream and heat, stirring until heated through.
9. Top with chopped red bell pepper and ENJOY!