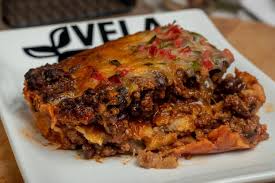 …with Corn Tortillas too…
This is a tried and true recipe! I have made it many times and it has been a good one. Many of my friends have asked me for the recipe because, well…I guess you could say it is YUMMY!
My family loves black beans. I make them in the crockpot almost every week. I love the crockpot, it makes things like beans so simple – soak them overnight, drain them in the morning, put them into the crockpot with fresh water and salt and you're done. I start mine on high and let it go like that for most of the day and then turn it down to low until we are ready to eat. So simple – but so good!
Anyway, this recipe can be made with either canned black beans or ones that you cook yourself either in a pot on the stove or in a crockpot.
Here is the Recipe:
Ingredients:
2 cups chopped onion (2 large)
1 1/2 cups chopped green bell pepper (2 medium)
1- 14 1/2-ounce can diced tomatoes
3/4 cup picante sauce (or salsa)
2 teaspoons – 1 tablespoon ground cumin
2 – 4 cloves garlic, minced
2 – 15-ounce cans black beans, drained OR 4 cups cooked black beans
salt to taste
12 6-inch corn tortillas
2 cups shredded reduced-fat Monterey Jack or Pepper Jack cheese (8 ounces)
2 medium tomatoes, sliced (optional)
2 cups shredded lettuce (optional)
sliced green onion (optional)
sliced pitted ripe black olives (optional)
1/2 cup light sour cream or plain Greek yogurt (optional)
Directions:
1.  First, preheat your oven to 350 degrees
2. In a large skillet, combine onion, bell pepper, undrained tomatoes, picante sauce (or salsa), cumin, garlic and salt. Bring to boiling; reduce heat. Simmer, uncovered for 10 -15 minutes ( or until your onions and peppers are how you like them) – then stir in the beans.
3. Spread one-third of the bean mixture over the bottom of a 3-quart rectangular baking dish. Top with 6 of the tortillas, overlapping as necessary, and 1 cup of the cheese. Add another one-third of the bean mixture; topping with remaining tortillas and remaining bean mixture.
4. Bake, covered, in a 350 degree oven for 35-40 minutes or till heated through. Sprinkle with remaining cheese. Put back in oven to melt the cheese. Take out of the oven and let stand for about 10 minutes before serving.
5. Optional – top with tomato slices, shredded lettuce, green onion and olives, light sour cream or plain Greek yogurt.