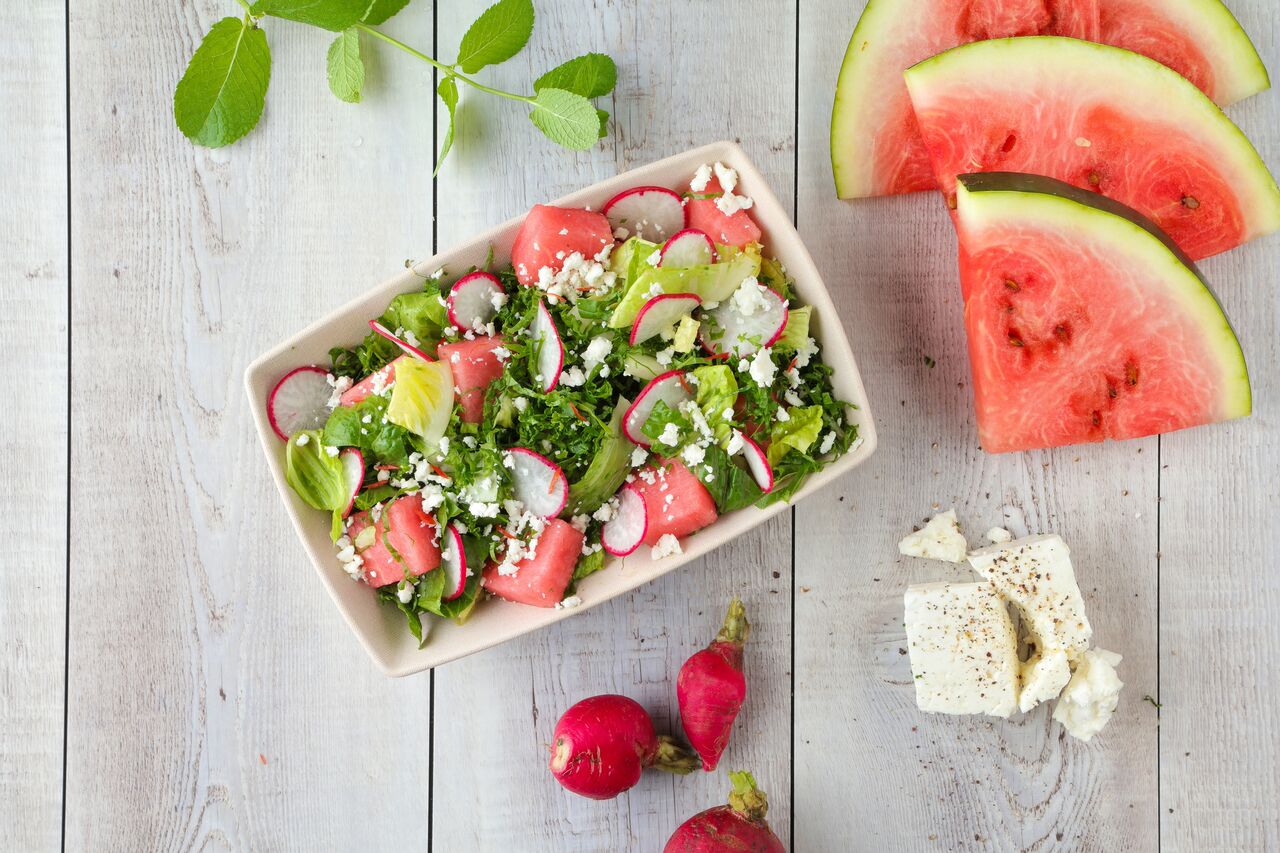 Salads
Mediterranean Watermelon Salad
Mediterranean Watermelon Salad

I know this is the time of year for fall leaves and pumpkins and squash. I guess I am not quite ready for that yet. Here in California, I am still eating watermelon everyday. I imagine that will end soon, but I love watermelon!
Even here in California, the days have been warm but the nights and early mornings are cool. I have become very spoiled living here. A friend from New York told me that it's getting cold back there and another friend in Northern Idaho was expecting snow on the mountain above his place. Yikes! I have to say that I do love the smell in the air when fall is coming, though.
You know how some people in the South eat their watermelon with salt on it? Well, I guess that is why this salad works. The feta cheese and the kalamata olives are a little salty and salt brings out flavor and sweetness. The toasted pumpkin seeds add that nutty flavor and crunch that is so good. A little drizzle of balsamic glaze adds that little sour edge to finish things off.
Here is the recipe:
Ingredients:
4 slices of watermelon
4-5 oz. of feta cheese, cut into bite size pieces
a handful of lightly toasted seeds, like pumpkin or sunflower
10 – 15 black olives, like kalamata
balsamic glaze
Directions:
1) Cut the rind off the watermelon slices. Remove as many seeds as possible or use a seedless watermelon. If possible, get the sweetest and juciest watermelon you can find. (Don't use any of the whiter flesh, just the part that is right in the core.
2) Cut the watermelon into bite size chunks.
3) Mix the watermelon, feta cheese, and black olives. Drizzle balsamic glaze lightly over the top of the salad.
4) Cover and chill the salad for 30 minutes in the refrigerator before serving.
5) Top with the toasted seeds just before serving so they won't get soggy.